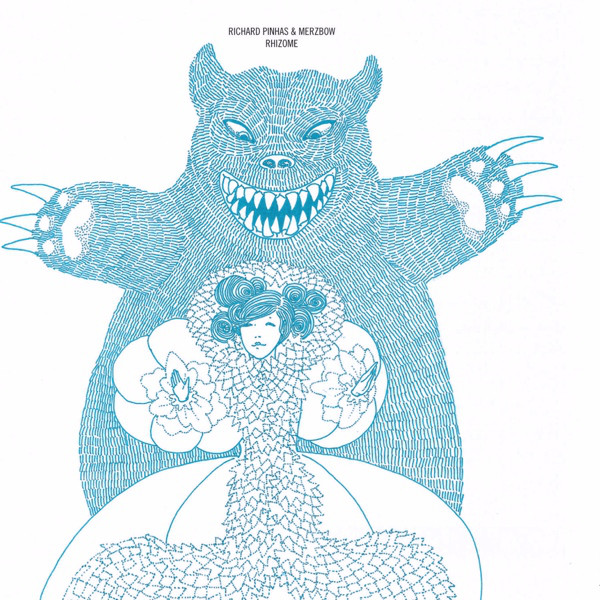 CD:
1. Rhizome 1 - 010011010011011 (16:09)
2. Rhizome 2 - 100101000111010 (12:35)
3. Rhizome 3 - 001101010011001 (14:06)
4. Rhizome 4 - 110100100010000 (9:33)
5. Rhizome Encore - 0110101011 (11:13)
DVD:
6. Sonic Circuits Festival, 2010 (27:11)
Recorded live at the Sonic Circuits Festival, September 24, 2010 at La Maison Française, Washington D.C.
Live sound and recording by Mike Potter/Orion Sound Studios, Baltimore, MD.
Mixed at Ramses Studio, Paris, France.
It's interesting that Brandon Wu compares the work of Richard Pinhas and Merzbow to Fripp and Eno. At the time it was recorded, No Pussyfooting was considered to be practically 'noise' (sound familiar?) and Robert Fripp has gone on record about how the record label didn't want to release the album because it would affect the commercial impact of these artsts. Yet, with time, the work the duo did was absorbed into the greater musical universe - if not into the mainstream - and its influence continues to this day.
While it's never safe to predict the future, perhaps the unlikely but also quite logical meeting of Richard's billowing clouds of guitarwork with Masami's well considered sonic assault will also prove to be influencial upon the larger musical universe. In any event, this recording from September, 2010, expands upon their first studio meeting, Keio Line and offers an obvious follow-up, as well as new twists to the sound.