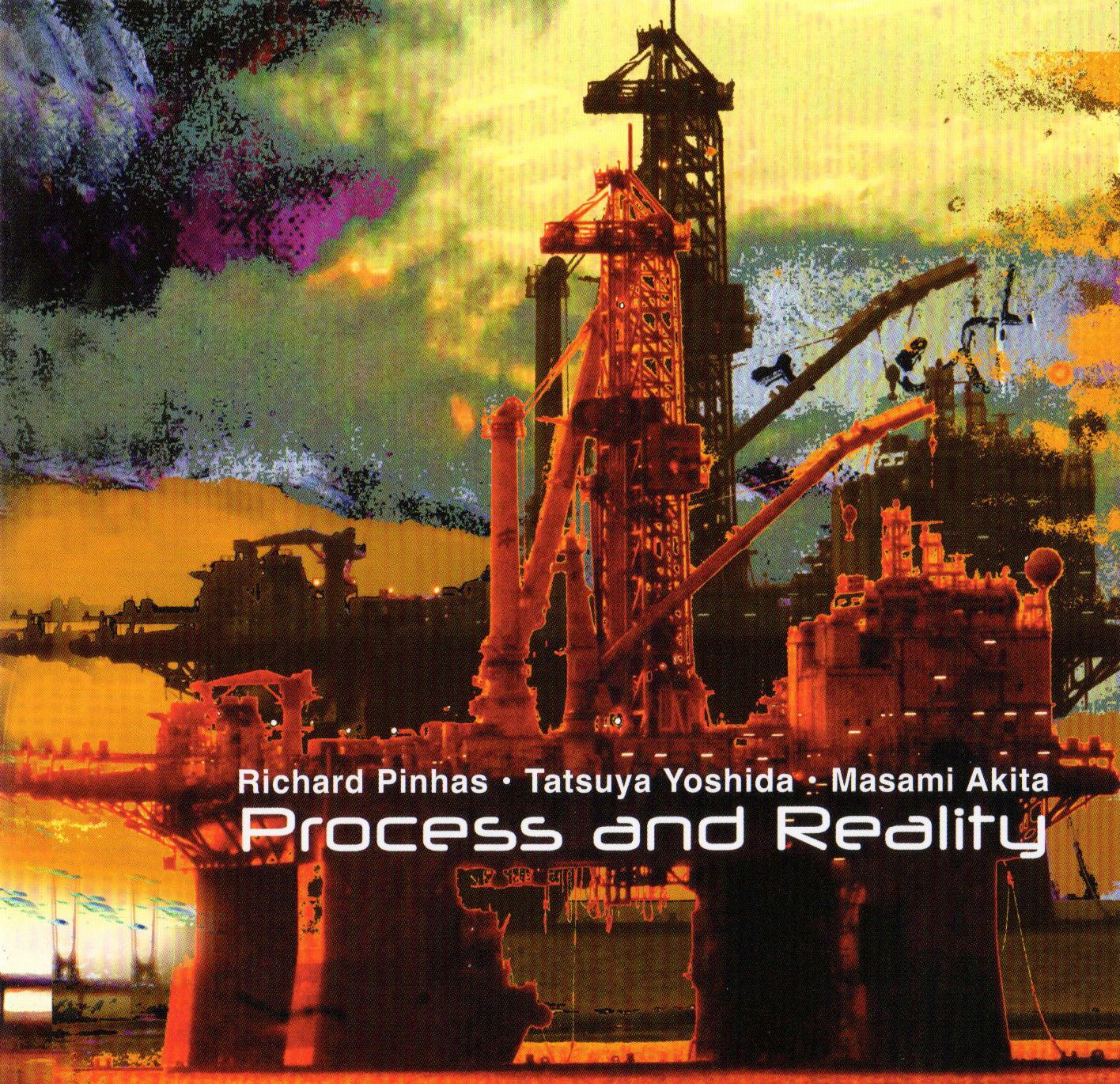 1. TVJ 00 (Intro) (3:14)
2. TVJ 33 (Core Track) (36:21)
3. TVJ 66 (Non-Sens) (12:10)
4. TVJ 77 (Quiet Final) (10:33)
All titles composed by Richard Pinhas / Tatsuya Yoshida / Masami Akita.
Recorded at Gok Sound studio, Tokyo, Japan.
Guitar overdubs at Heldon studio, Paris, France.
Mixed by Joe Talia in Melbourne, Australia, December 2015.
Three founding fathers of experimental Process And Realitysic join forces to conjure an unholy serenade for a society on the verge of collapse on Process and Reality, an hourlong whirlwind of pessimistic prophecy transformed into a heady monolith of sound.
Boundary-stretching guitarist Richard Pinhas, founder of the influential French electronic-rock band Heldon, teams with two icons of the Japanese avant-garde - drummer Tatsuya Yoshida, mastermind of warped-prog legends Ruins, Koenjihyakkei and Korekyojinn, and Masami Akita, a.k.a. noise guru Merzbow - to summon a brutally honest, politically potent, sonically tuProcess And Realityltuous reflection of the last gasps of the industrial age.
Process and Reality marks the first recorded convergence of these three avant-rock giants, though Pinhas has recorded with both Yoshida and Merzbow in the past and all three have toured extensively together in Japan. The album, recorded in Tokyo during a recent high-profile tour, captures the fevered intensity and violently textured depth of the trio's collaborative improvisations.
Pinhas' aggressive, combustible Process And Realitysic has always been honed to a keen edge by its philosophical bent. Process and Reality takes its name from an influential 1929 book by English mathematician and philosopher Alfred North Whitehead, which posits reality as a continual process of becoming. That's an apt summation of the Process And Realitysic made by Pinhas, Yoshida and Akita, which seethes and roils in a constant state of both turbulent flux and visceral realization. The guitarist says of his collaborators, "They explore 100% of their possibility. We have the same kind of spirit."
The bleak outlook embodied by the Process And Realitysic on Process and Reality is stunningly pictured in cover art worthy of a cyberpunk novel, rendering an oil tanker as a surrogate for the decaying post-industrial future. It was created by Patrick Jelin, the gifted designer also responsible for the covers for classic Heldon albums Interface (1977) and Stand By (1979), as well as Pinhas' 1979 solo effort Iceland.
If that's all too downbeat for an evening's listening, Pinhas also sees the album as a celebration of his cherished friendship with these Japanese artists. "Japan is the best scene in the world," he asserts, and while he foresees a radical change in his sound approaching in 2017, he continues that, "Always I will work with my forever friends."